Are you a young professional looking for the best San Francisco neighborhood to fit your style? If you identify as a 90's kid, a twenty-something or a millennial, we've got you covered. San Francisco is a hub for amazing companies in the tech, aerospace and education sectors. It has a huge range of living opportunities, from affordable lofts to luxury apartments that cost thousands each month in rent. Plus, San Francisco has some of the best weather you can find on the west coast. Basically, if you're thinking about moving to a new city, San Francisco should be at the top of your list.
Of course, when you look at one of the most populous cities in America, you're gonna need to break down your choices a bit further. To help you find the best places to live in San Francisco, we've created this guide to highlight some of our favorite San Fran neighborhoods. Keep reading to find your new hometown!
The Mission District – Median Rent: $1,561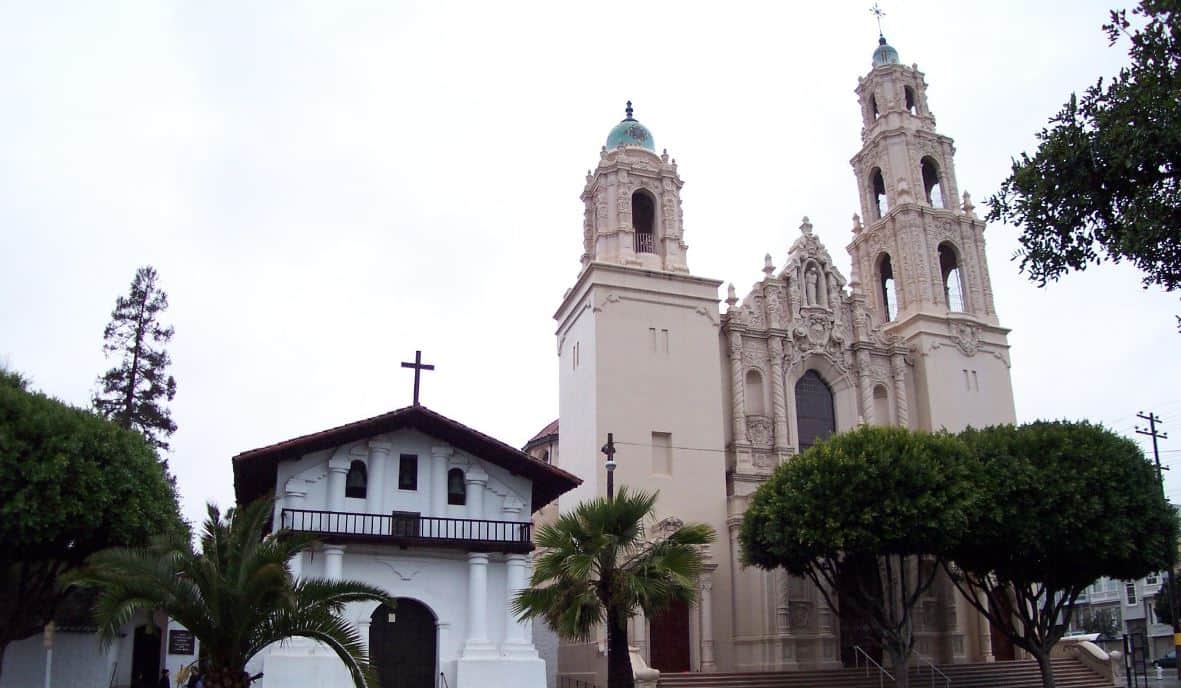 The first stop on our San Francisco neighborhoods guide is the Mission District, located in the heart of downtown. It's one of the best San Francisco neighborhoods to visit for foodies, with some of the city's top bars and restaurants. In fact, Mission Street, which runs down the middle of the neighborhood, is known for having some of the best Mexican cuisine in the Bay Area.
The Mission District gets its name from the Mission San Francisco de Asis (also known as the Mission Dolores), which is the oldest standing building in all of San Francisco. That makes the Mission District the city's oldest neighborhood, dating back to the founding of the mission in 1776.
So why should millennials consider moving to the Mission District? In addition the amazing food, the Mission District has some of the best weather in the city; since the neighborhood lies on a hill, it is spared some of SF's famous fog for sunnier days instead. The eclectic energy of this neighborhood is perfect for hipsters, artists and young professionals who want to be part of a vibrant urban community. But it's also one of the best places to live in San Francisco for families, owing to an incredible diversity of resident ages, ethnicities and cultures.
SoMa (South of Market) – Median Rent: $1,588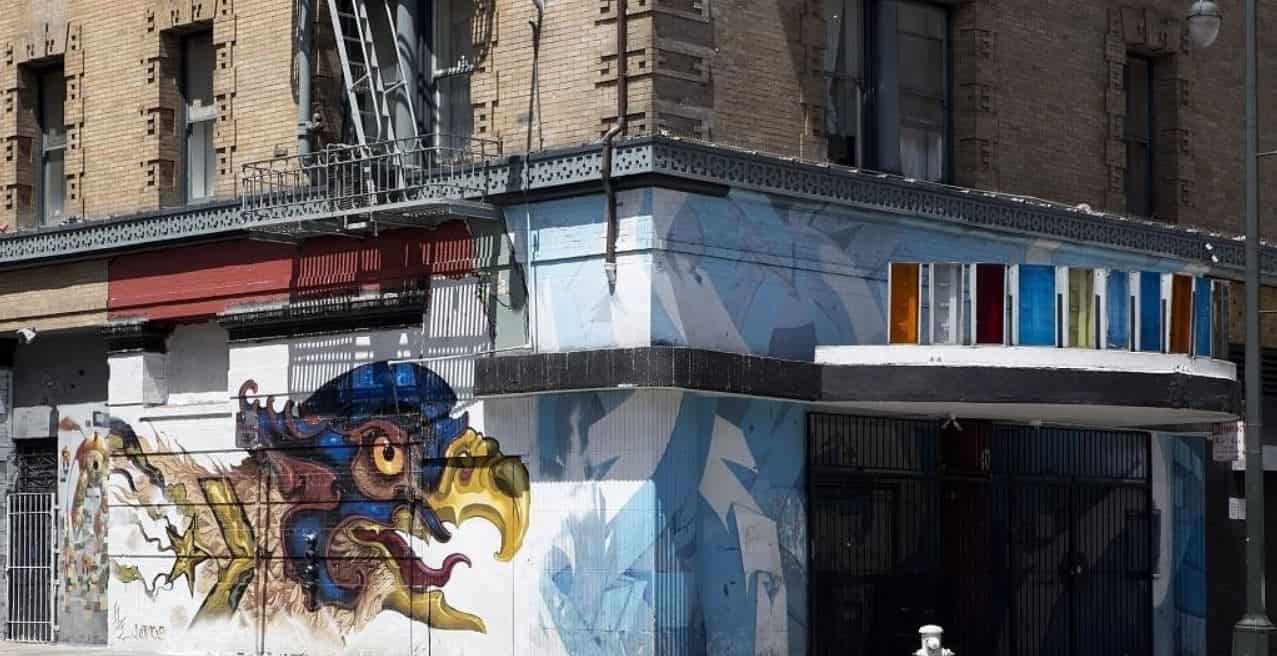 Much like SoHo in New York City, SoMa is an abbreviation referencing the neighborhood "South of Market [street]." SoMa is known as a top neighborhood for San Francisco young professionals, not only because of the district's easy access to downtown but because of the large number of tech startups that have found a home South of Market. These companies are known not only for welcoming millennials in the workplace at the entry level but also as great places to build your career, with tons of upward mobility as the tech industry continues to grow.
Millennials also love SoMa for its trendy urban atmosphere, featuring an eclectic mix of commercial buildings, warehouses, high-rises, and loft-style apartment buildings. Getting to work or other parts of the city is easy, since you'll always be just steps away from public transport options, and you'll never go hungry because SoMa also features some of the best San Francisco places to eat!
If you want to work at a trendy startup, live in an affordable apartment, and enjoy top attractions just steps away from your door, SoMa might be one of the best places to live in San Francisco for you!
The Castro District – Median Rent: $1,842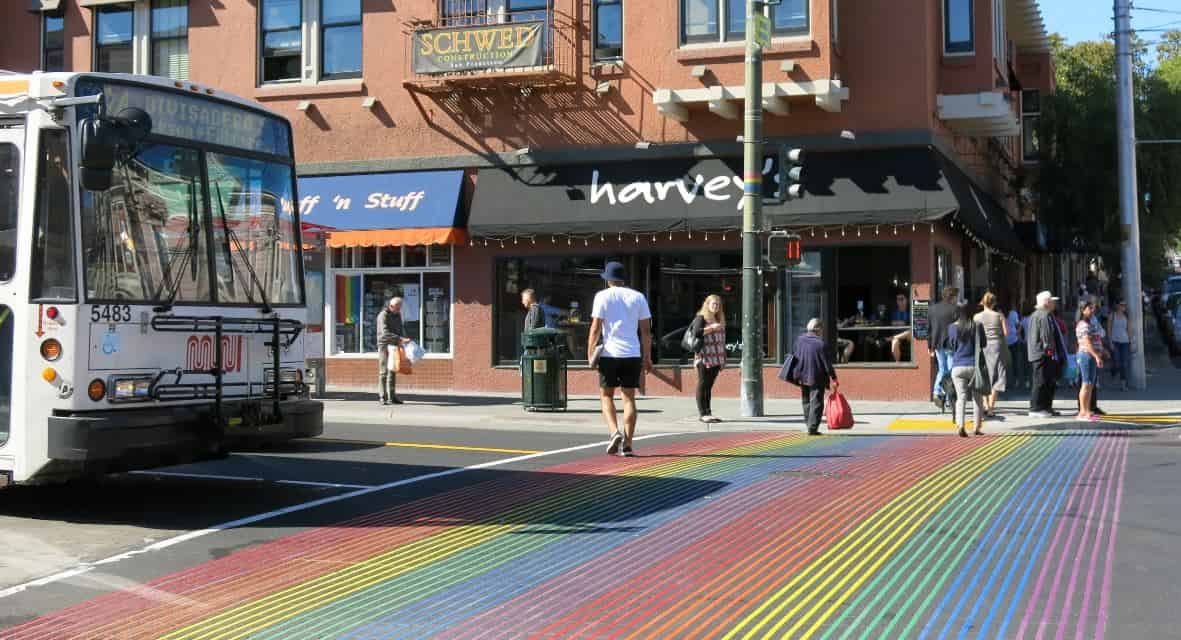 Looking for the most friendly LGBTQ+ community in San Francisco? The Castro District has you covered, as the city's most historically gay neighborhood. In fact, "The Castro" was one of the first LGBTQ+ neighborhoods in America, coming to prominence in the 60s and 70s during the San Francisco civil rights movement, which was pioneered here by Harvey Milk. Today, it remains an epicenter of activism and a symbol of love and acceptance.
Located in the heart of downtown, the Castro District has tons of amenities to offer millennials in San Francisco. Of course, it's one of the best places to visit in San Francisco to learn about LGBTQ+ history, and during June, the neighborhood goes ALL OUT with pride. You can also stop by the Castro Theater, a historic movie palace that shows a mix of new films and crowd favorites from years past. Plus, in the Castro District, you are just a short walk from Mission Dolores Park, which offers a sprawling 14-acre greenway perfect for lounging, and one of the best views of San Francisco.
Think the Castro District might be perfect for you? Circle the area on your San Francisco neighborhoods map, and head on over!
Inner Sunset – Median Rent: $1,767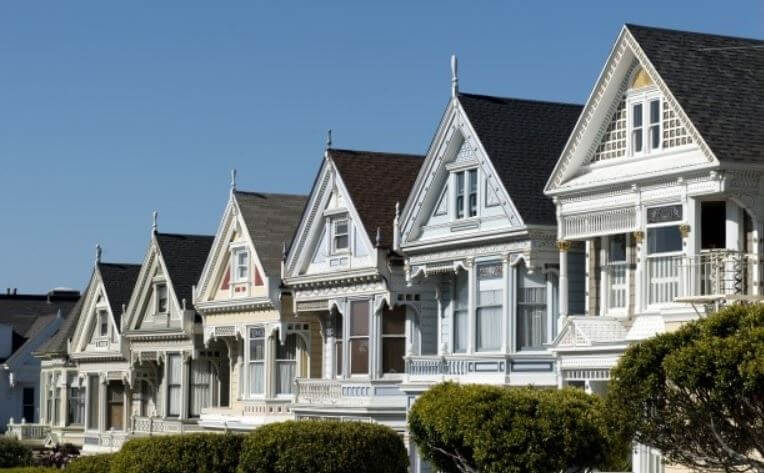 Worried about San Francisco neighborhood safety? You might want to consider living in Inner Sunset! Located just south of Golden Gate Park, Inner Sunset is one of the safest San Francisco neighborhoods near downtown, with crime rates that are nearly 60% lower than the rest of the city. And while the cost of living in Inner Sunset isn't cheap, the median household income of over $100,000 per year definitely helps make this neighborhood more affordable for residents.
Inner Sunset is one of San Francisco natives' favorite neighborhoods in the city because it's managed to capture a small-town community feeling, despite the urban setting. People living in Inner Sunset know their neighbors and love their local businesses. In addition to plenty of amenities and things to do, Inner Sunset also has great schools for kids, making this neighborhood one of the best places to live in San Francisco for families.
Is moving to Inner Sunset the right choice for you? If you want to be part of a close-knit community and don't mind the fog, this might be your perfect San Francisco neighborhood.
Moving to San Francisco
Young professionals moving to the west coast should definitely consider settling in San Francisco. Between the amazing weather, the plethora of job opportunities, and some incredible neighborhoods to choose from, there's something here for every millennial to enjoy.
Before you make your final decision, be sure to read our complete guide on How to Evaluate a Neighborhood, to make sure you don't miss a thing.  When you're ready, Move Matcher can help you find the perfect San Francisco moving company, so you can sit back and enjoy that California sun.
Did you enjoy learning about the best neighborhoods in San Francisco for millennials? Explore our neighborhood guides to Denver, Orlando, Philadelphia and Los Angeles to discover where you should go next.