Boston is filled with unique neighborhoods within its city boundaries. Each location offers its own special vibe in the way of dining, shopping, and entertainment. When it comes to pizza, this sentiment is true as well. The various neighborhoods throughout Boston offer pizzerias which residents and visitors come to know and love. From small, chef-owned eateries to larger establishments, the options are wide and varied in Boston. So, which pizzeria is the best in your neighborhood?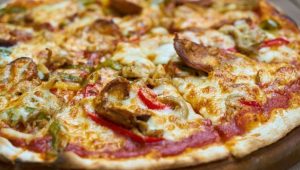 The best place to grab a slice in the Back Bay neighborhood of Boston is Dirty Water Dough. With pizza, you'll surely remember and a name you can't forget, Dirty Water Dough is an ideal spot for a slice of pie, well, anytime! The secret to their pizza and the reasoning surrounding the name is that their pizza dough is made with their very own Dirty Water IPA. As a bonus, the dough is egg, nut, and dairy-free, providing a way for those with dietary restrictions to enjoy Dirty Water Dough pizza, too. Order a vegan cheese, Margherita, pepperoni, or anyone of their other tempting pizzas from the menu. Dirty Water Dough, as one of the best spots for pizza in downtown Boston, is a must-try restaurant.
222 Newbury St., (617) 262-0090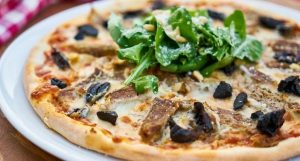 If you live in or near Cambridgeport, or lucky enough to be visiting this Boston neighborhood, don't hesitate to visit Oath Pizza. This small-chain pizzeria offers unique twists on the usual pizzeria fare with welcome features such as a light avocado oil crust and some thoughtfully-sourced ingredients. Craft pizza options include mouthwatering bites including classic cheese pizza, mushroom and truffle sauce pizza, and a fig, bacon, and brie concoction. For those who like to build their own pizza creations, you can pick and choose the toppings you like on the pizza of your choice. And, be sure to try one of their refreshing house-made salads to accompany your cheesy and delicious pie.
181 Massachusetts Ave., (617) 665-5351
Boston neighborhoods are home to many fabulous pizzerias, and you are bound to have the best neighborhood pizza close by.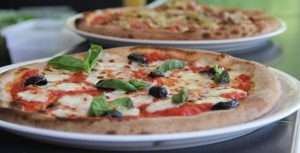 If you're dreaming of Neapolitan pizza with an artisanal twist and are eager to indulge in the best pizza in South Boston, look no further than Pastoral. The pizzas are carefully crafted with each ingredient added with the purpose to ensure the perfect pizza pie. Order the original crust or, if following a gluten-free diet, gluten-free crusts are always available at this South Boston eatery. From a Margherita pie to a fennel sausage creation, you're going to enjoy whatever item you choose from the Pastoral menu.
345 Congress St., (617) 345-0005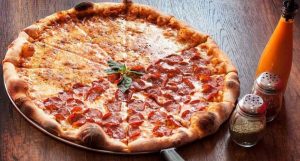 Crazy Dough's in Brighton is a prime spot to visit when you have a hunger for a freshly-baked pizza pie. Offering up fire-grilled favorites at this artisan slice bar, you're going to like what the Crazy Dough's menu offers. The thin and Sicilian crusts are baked to perfection, as are the delicious toppings which add the finishing touches to the pies. With options such as the balsamic glaze and ricotta pizza to the chipotle chicken and bacon favorite, you are going to have a hard time choosing just one.
2201 Commonwealth Ave., (617) 202-5769
Pizza Options Surround You Throughout Boston

If you find yourself walking through Boston and suddenly feel hungry for pizza, rest assured that just around the corner lies the ideal pizzeria to help you satisfy your hunger. From vegetarian pizzas to pies generously topped with pepperoni and sausage, you can choose the pizza you love, thanks to the options in Boston. If you are in any of the neighborhoods mentioned above, stop by the noted eatery to explore their sensational menu items and the best pizza in Boston.
If you are considering a move to Boston and need some help getting started with the move process, Move Matcher can help. Read our comprehensive guides on the neighborhoods above by clicking on the respective links. These guides will tell you more about each of the areas, including the overall vibe of the neighborhood, upcoming events, local restaurants, and nearby attractions.
Don't see the Boston neighborhood you're interested in? Search the Move Matcher site for details on your chosen location and other interesting Boston information to start putting your moving plans into motion.