The Golden City has long been a dream living location for people all over the world. With some of the finest views, opportunities and amenities, San Francisco rent prices tend to be a lot pricier than what we notice around the country. To help you find the best San Francisco rent prices, this page will break down everything you need to know about this competitive rental market along with the changes in rent San Francisco has noticed recently.
Although other cities in California like Los Angeles and San Diego can tend to receive a little more attention than San Francisco, it still is the fourth largest city in California by population. This also makes it consistently in the top 15 largest U.S. cities by population. Add in a few hilly roads, wonderful culture, and sites like Fisherman's Wharf and you are left with San Francisco.
After researching the rent prices all across the Golden City, we have carefully determined how San Francisco rent prices match up with similar options in this region, along with the rest of the United States. In a nutshell, though, San Francisco apartment prices are a wonderful choice for those on budgets above the national rent average of $1,430 a month.
Average San Francisco Rent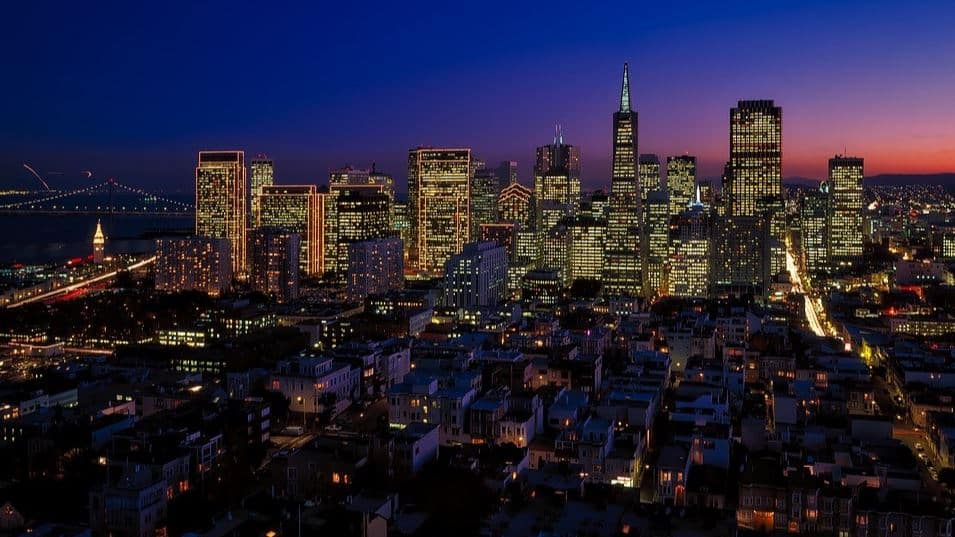 As of May 2019, the average San Francisco rent prices were $3,609 according to Rent Café. In April 2019, Rent Jungle calculated the average San Francisco rent to be as high as $3,933.
This number has tended to fluctuate a few percentage points every quarter or so. For example, the rent increase has elevated at least 5% from 2018. This is nothing outside of the ordinary, though, as it is common for popular markets to slightly raise their prices each year.
Accordingly, it seems the average 1 bedroom rent San Francisco has will continue to increase a small percentage each year. However, this also depends on many variables such as your exact location, apartment amenities, and so on.
The good news, though, is that the changes in rent San Francisco has experienced recently are nothing out of the ordinary. In January 2016, the average San Francisco rent was listed at $3,474. If this trend continues, the San Francisco average rent should only increase a few hundred dollars or so by 2022.
San Francisco Average Rent by Neighborhood
San Francisco rent prices vary based on which neighborhood you want to live in. Many places consistently remarked as the best San Francisco neighborhoods for millennials, as an example, tend to be a lot more affordable than what the average rent prices may imply.
Currently, the average monthly rent in the two most expensive neighborhoods in San Francisco are:
Presidio: $4,881
Mission Bay: $4,472
Here is the average monthly rent in the two least expensive neighborhoods in San Francisco
Treasure Island: $2,616
Civic Center: $2,905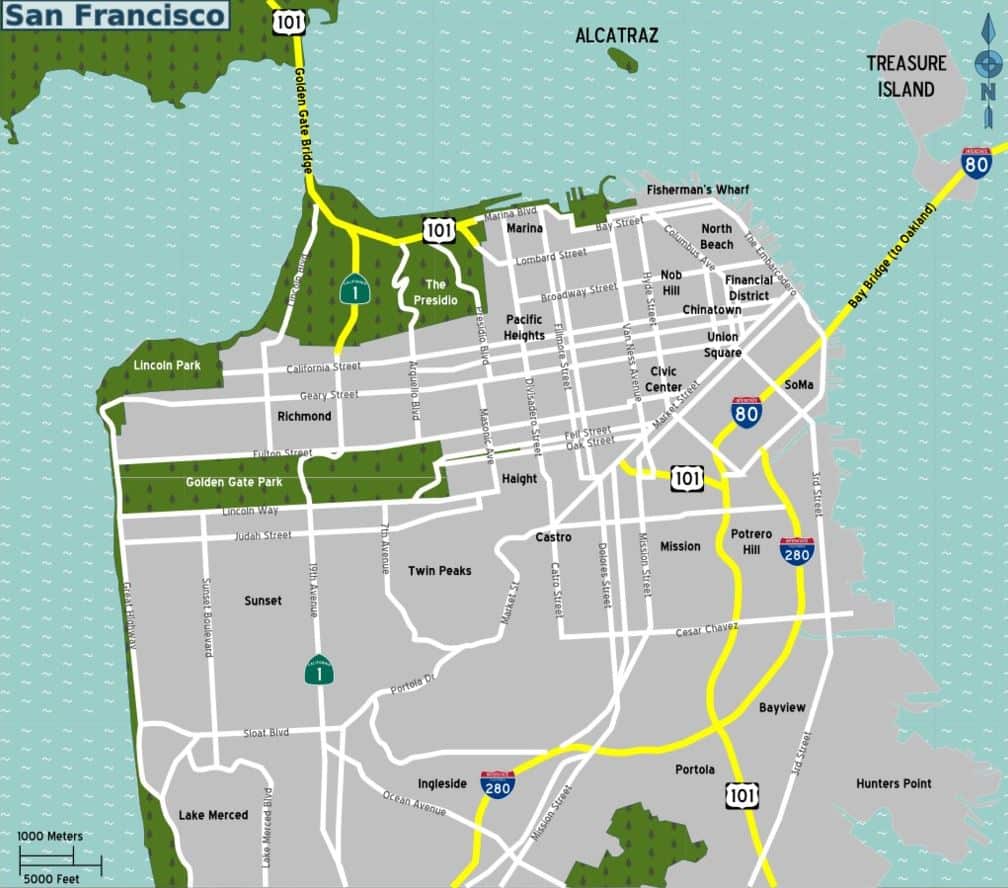 With the least expensive and most expensive neighborhoods in San Francisco out of the way, we can now cover the San Francisco average rent by neighborhood a lot more effectively. Various neighborhoods in San Francisco offer wonderful locations and prices in between the two extremes we explored above.
The average rent in some of San Francisco's most popular neighborhoods:
The Mission: $3,841
Potrero Hill: $3,931
Bernal Heights: $2,942
Dogpatch: $4,158
Castro: $3,983
Haight Ashbury: $3,473
Hayes Valley: $2,944
Noe Valley: $3,206
Pacific Heights: $3,080
Downtown: $2,931
San Francisco Rent by Apartment Size
Unless you have an unlimited budget, San Francisco apartment size won't be entirely large. Most people who live in an urban city like this one tend to be okay with this. The average size of a San Francisco apartment is 792 square feet.
As of May 2019, the average rent for one bedroom apartment in San Francisco is around $3,695 each month. The rate has fluctuated as high as $3,878 and as low as $3,250 in the past 5 years.
If you are in San Francisco to rent apartment 2 bedrooms or larger in size, then you should naturally expect to pay a little more. The average 2 bedroom rent in San Francisco is about $4,602. This is a pretty reasonable average rate since it has reached as high as $5,000 in the past 5 years.
San Francisco Rent Trends
San Francisco had an all-time record of 25.8 million tourists visiting the city last year. This has certainly helped cause rent changes in San Francisco in 2019. Especially concerning property owners who were previously considering moving over to short-term vacation listing.
If you wish to find a San Francisco rent apartment for long-term periods, you will usually get the best rate. Let's take a deeper look in how changes in San Francisco rent compare with regional and national trends.
Apartments in San Francisco and the West
Although many people may be turned off by a pretty consistent rent increase in San Francisco each year, the increase is still far behind what we have seen in other cities in the West. Aurora, Colorado, for example, has experienced a 33.8% rent increase in the past five years.
Mesa, Arizona is another city which has experienced massive rent hikes far above what we see in San Francisco. Since 2014, they had increased 25% past their average rates.
The average rent increase San Francisco has experienced, then, is actually pretty reasonable. In terms of stability, San Francisco is still a great option. As far as the average price, though, San Francisco remains one of the most expensive city markets in the USA.
Prices in San Francisco and the U.S.
With the national rent average clocking in at $1,430 a month, San Francisco is still one of the most expensive cities to live in terms of the average monthly rent. Clearly, though, this has also helped it to have comparatively low annual rent increases.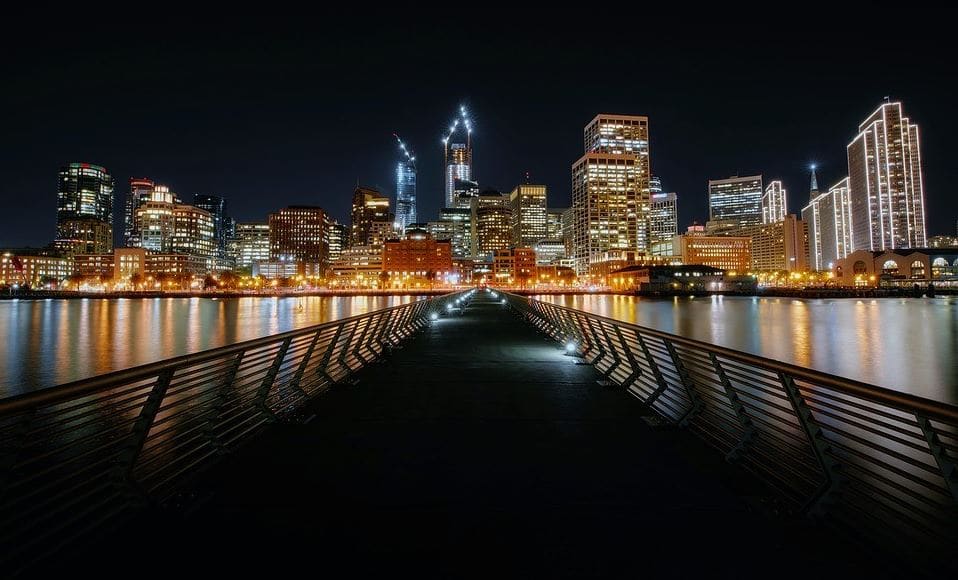 Those who choose to live in San Francisco may have to pay the extra price to live in the Golden City. Thankfully, this still hasn't stopped it from being one of the top cultural hubs on the USA. Due to its rich history and fine local sites, people will surely continue to be drawn here. Make sure to check what is trending in the city, as well as our San Francisco moving tips if you are interested in the Bay area.