Most people understand how complicated and stressful moving can be, from packing the first box to unpacking the last. Moving is costly, time consuming, and an inherently difficult process to organize.
But what if there was a way to lessen the worries of moving? That's where Move Matcher comes in.
Moving is an exciting life change but is often turned stressful by the overwhelming amount of work. For most, hiring a moving company makes the process a lot easier and is usually deemed worthy of the cost.
But the sad truth is, people get scammed by moving companies every day.  These shady operations overcharge and underdeliver on their work, and at worst, money is lost, and priceless possessions go missing.
About Move Matcher
Move Matcher works hard every day to provide a network of trusted and reliable movers. All of the moving companies in our network are appropriately licensed, bonded, and insured in their state. We offer transparency through our process so our community can rest assured they are receiving accurate quotes and availability from our network of trusted moving companies.
How Move Matcher Works
Our goal is to provide a moving resource that connects people with the best movers for them; and naturally, our quoting process reflects that mantra. All Move Matcher requires is a little bit of info from you (which we never share!) to display local or long distance mover search results.
Here's how it all works:
1. Enter Your Information
We need both of your addresses—the one you're moving from and your new address. This will ensure you receive quotes from moving companies who service your area.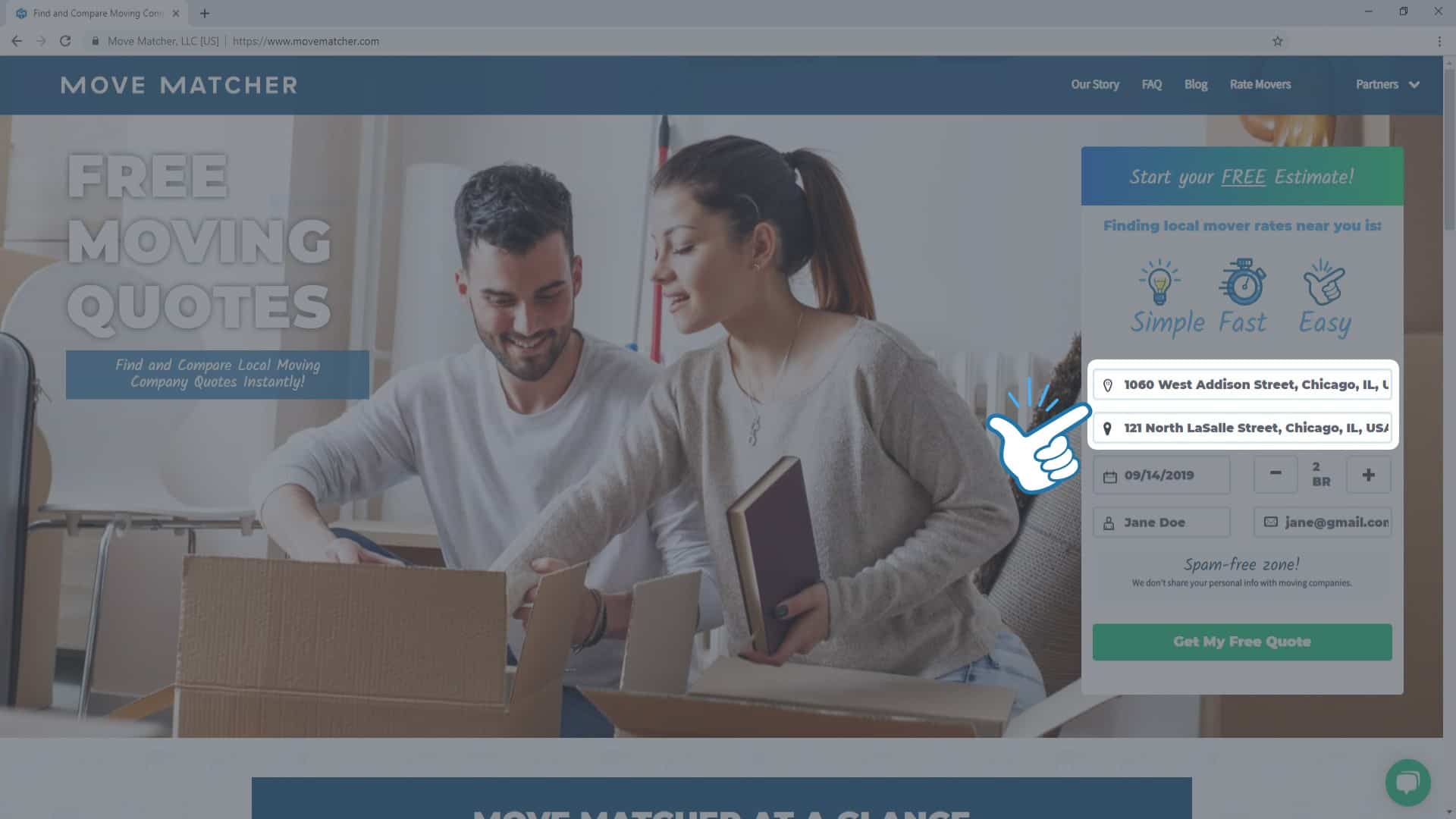 Next, we need your move date. This helps us find moving companies who are available when you need them and calling on moving companies who are booked for the day you need them isn't helpful for anyone.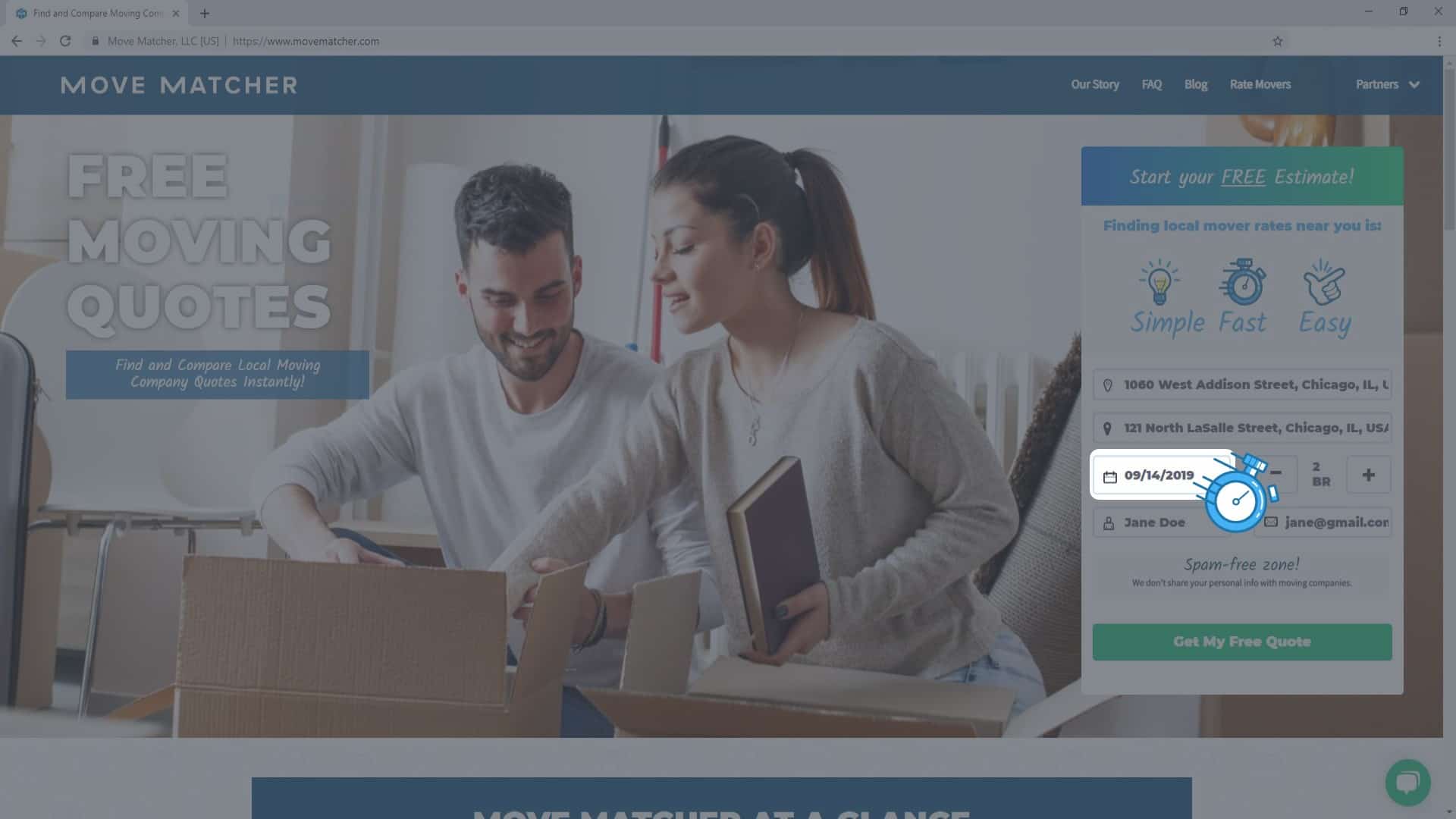 We also need to know the size of your home. The price of a move varies greatly between a studio apartment and six-bedroom home, so this information is crucial for us to provide the most accurate moving quotes.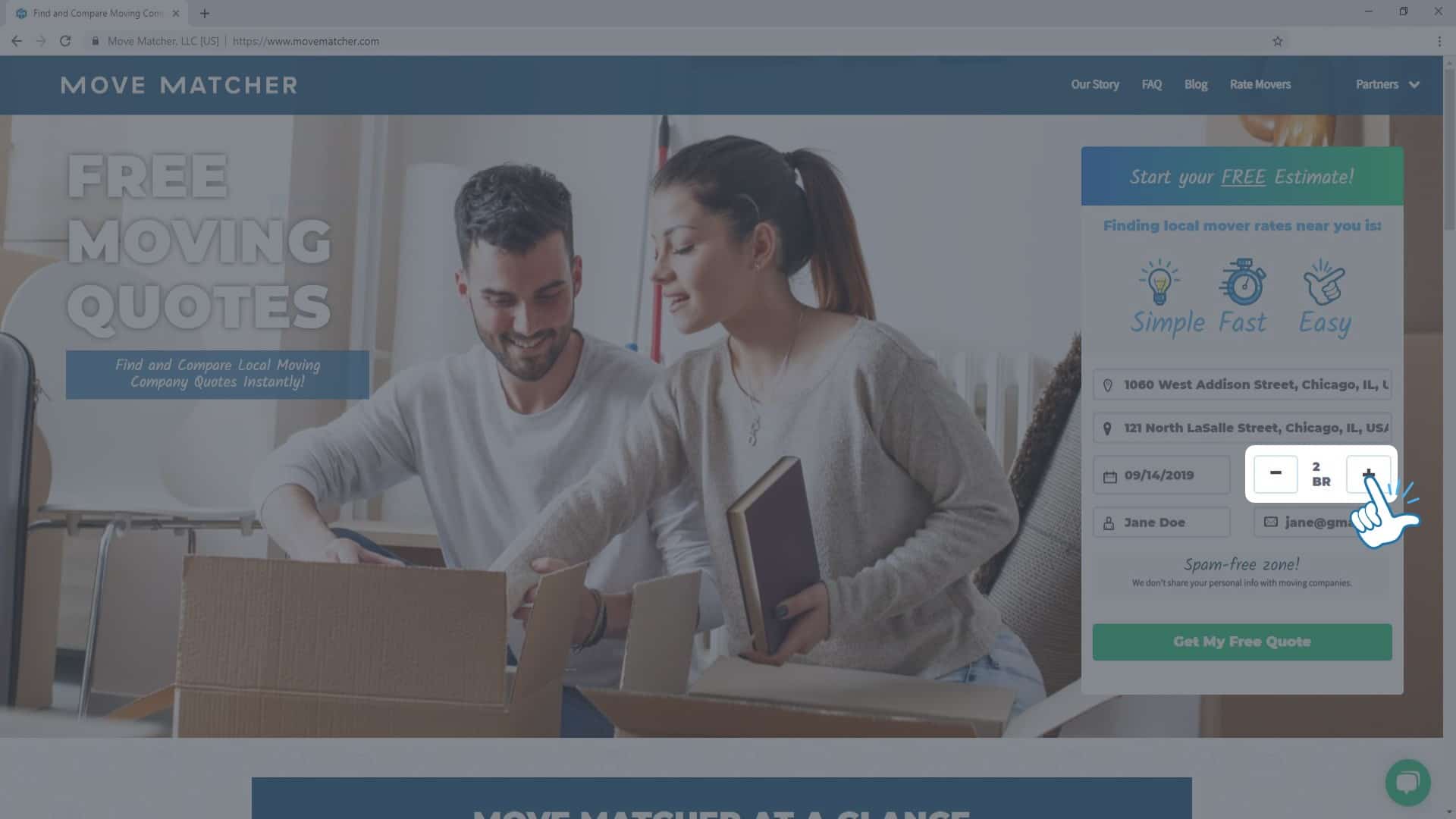 Finally, provide your name and email. We won't share your information with our movers, but we will send you an email so you can access your mover search results later.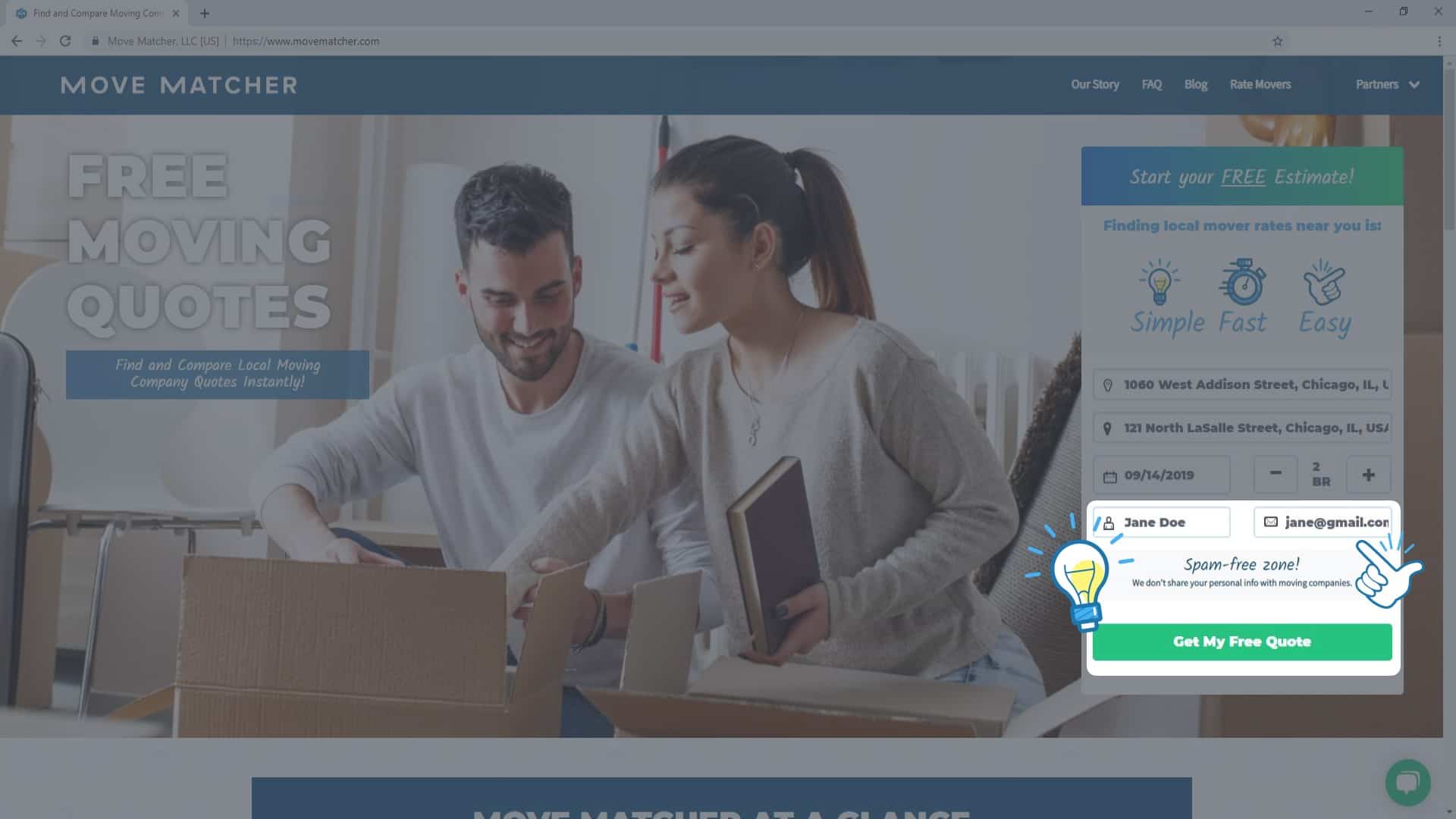 2. View your quotes
After you enter your moving details, you'll be redirected to a nifty page with all of your moving company search results and quotes. But this page is more than just a list of prices — it's your one-stop-shop for picking the perfect moving company.
The first thing you'll notice on the mover search results page is the estimated hourly rate for each mover.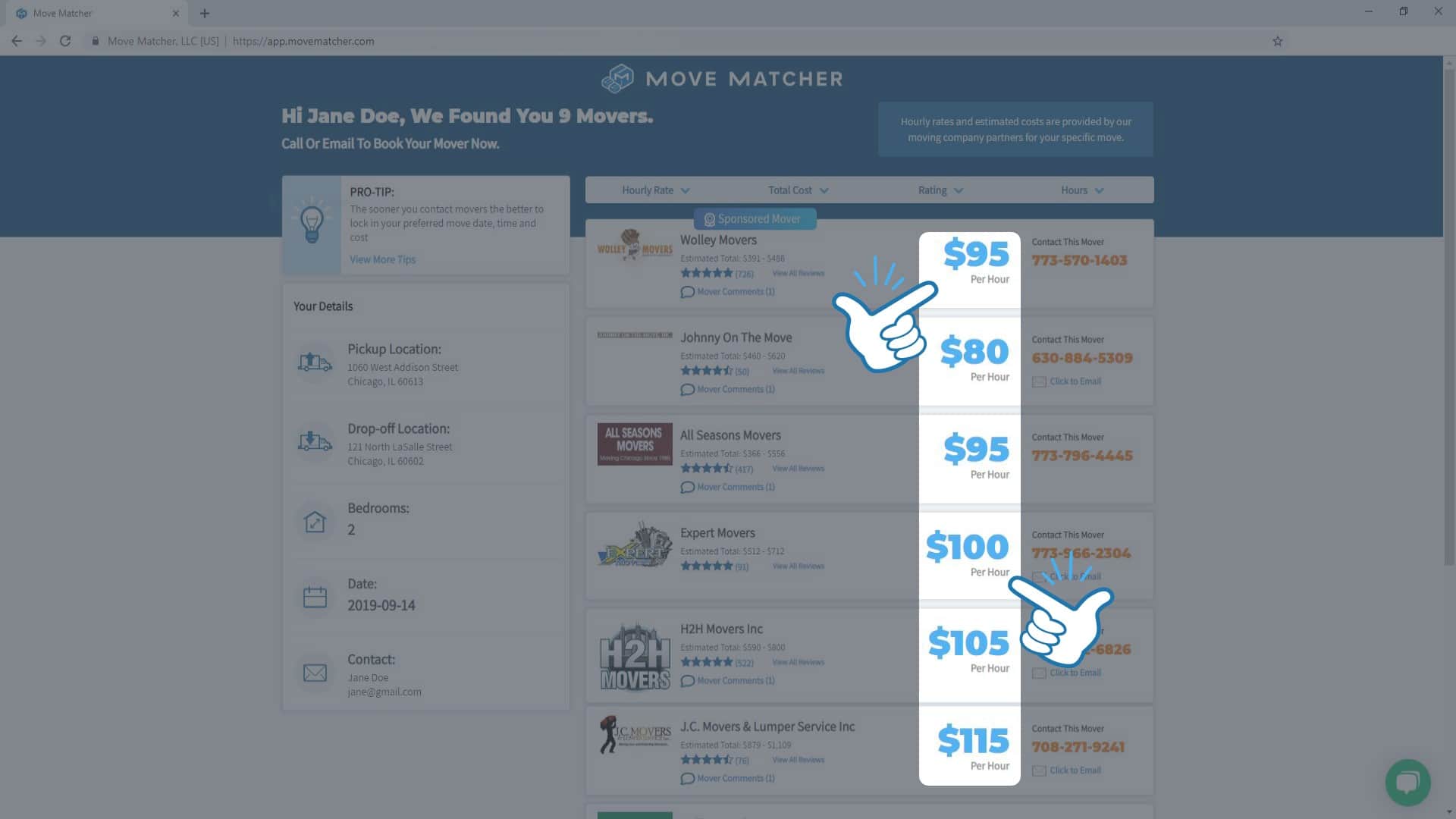 Each moving company profile also has reviews so that you can read through others' experiences with that company.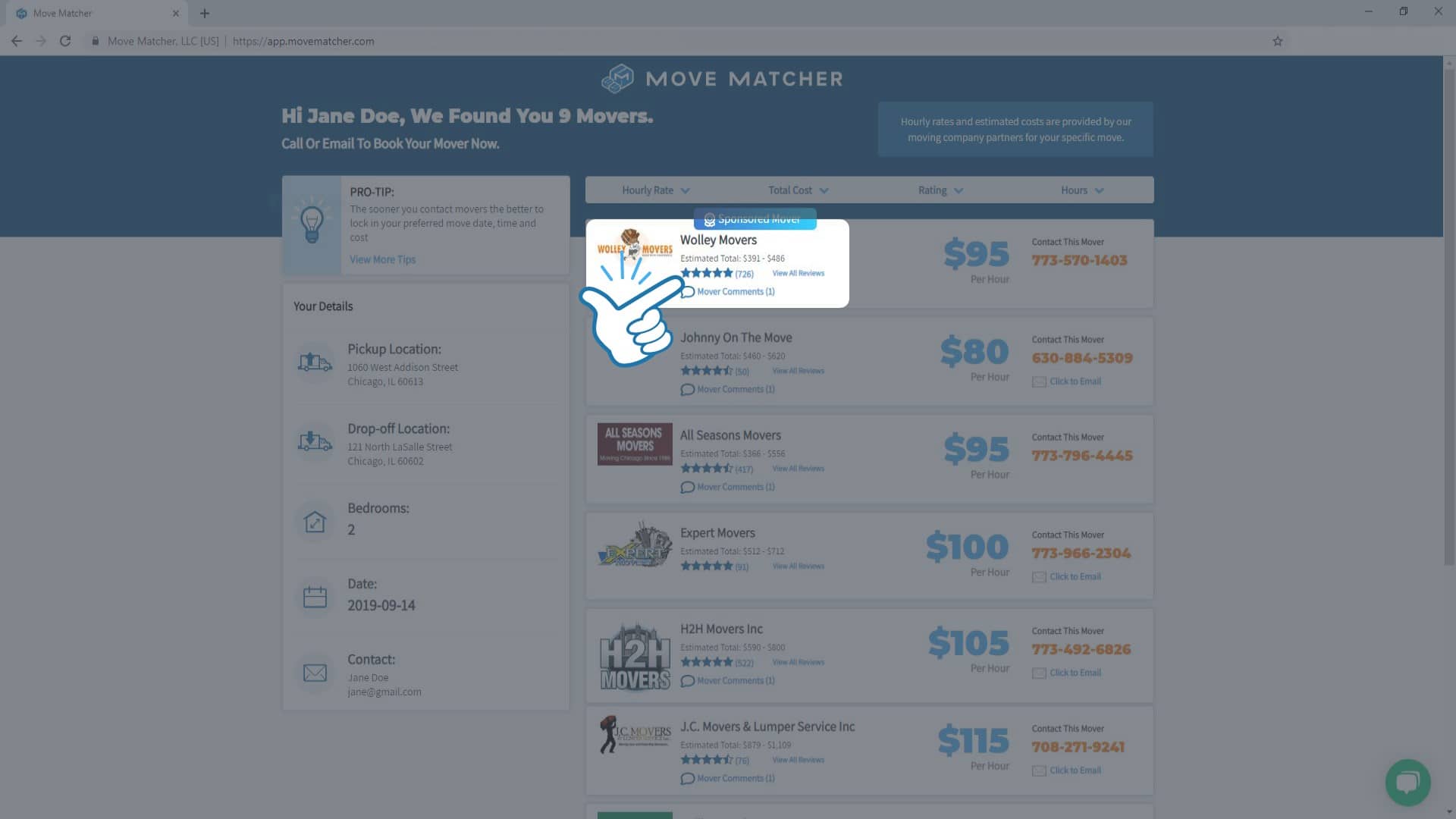 You can also view mover comments which provide more insight into the moving company's business and processes.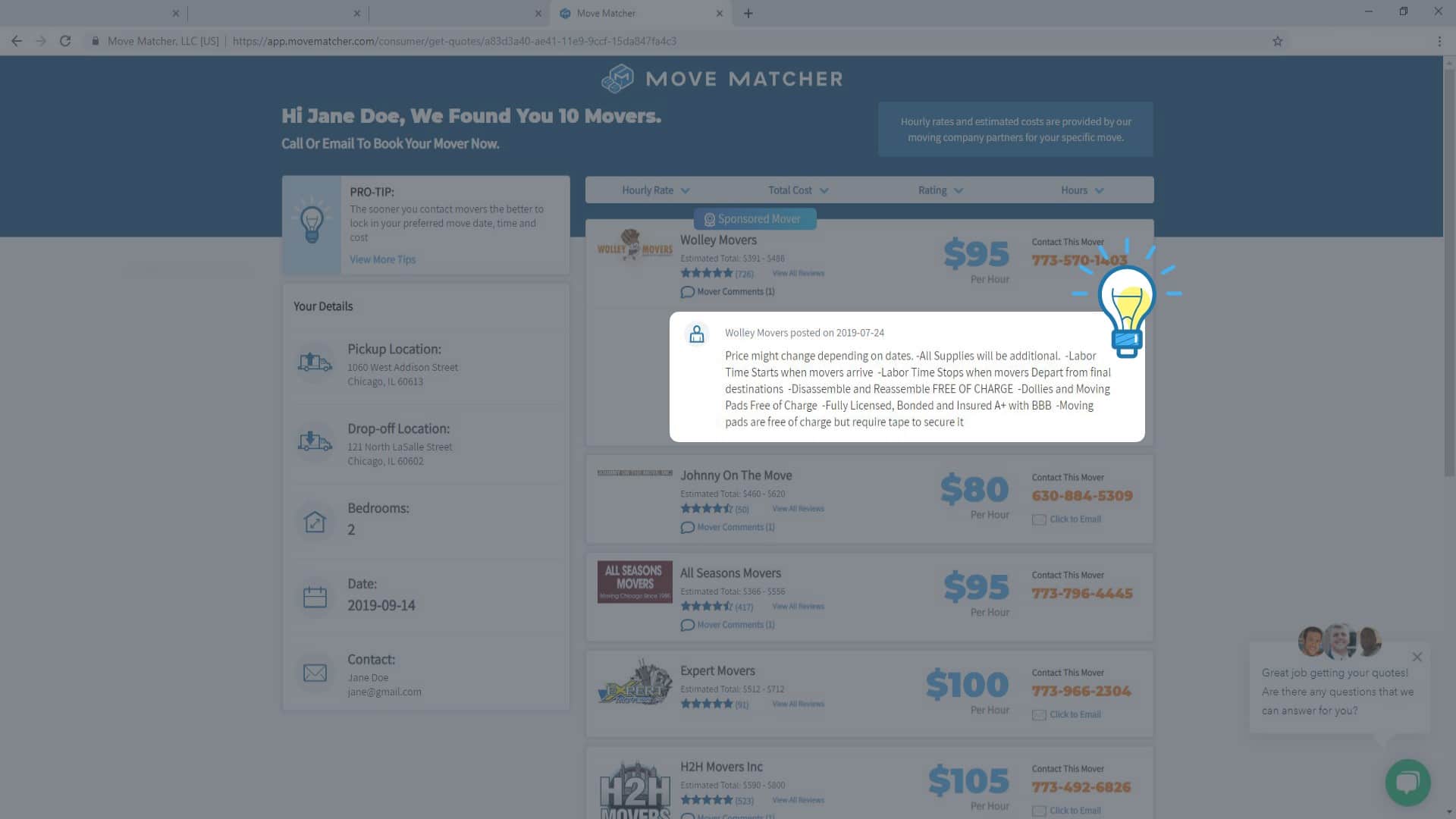 Once you find a company that works for you, you'll have the option to call or email each mover to book your move.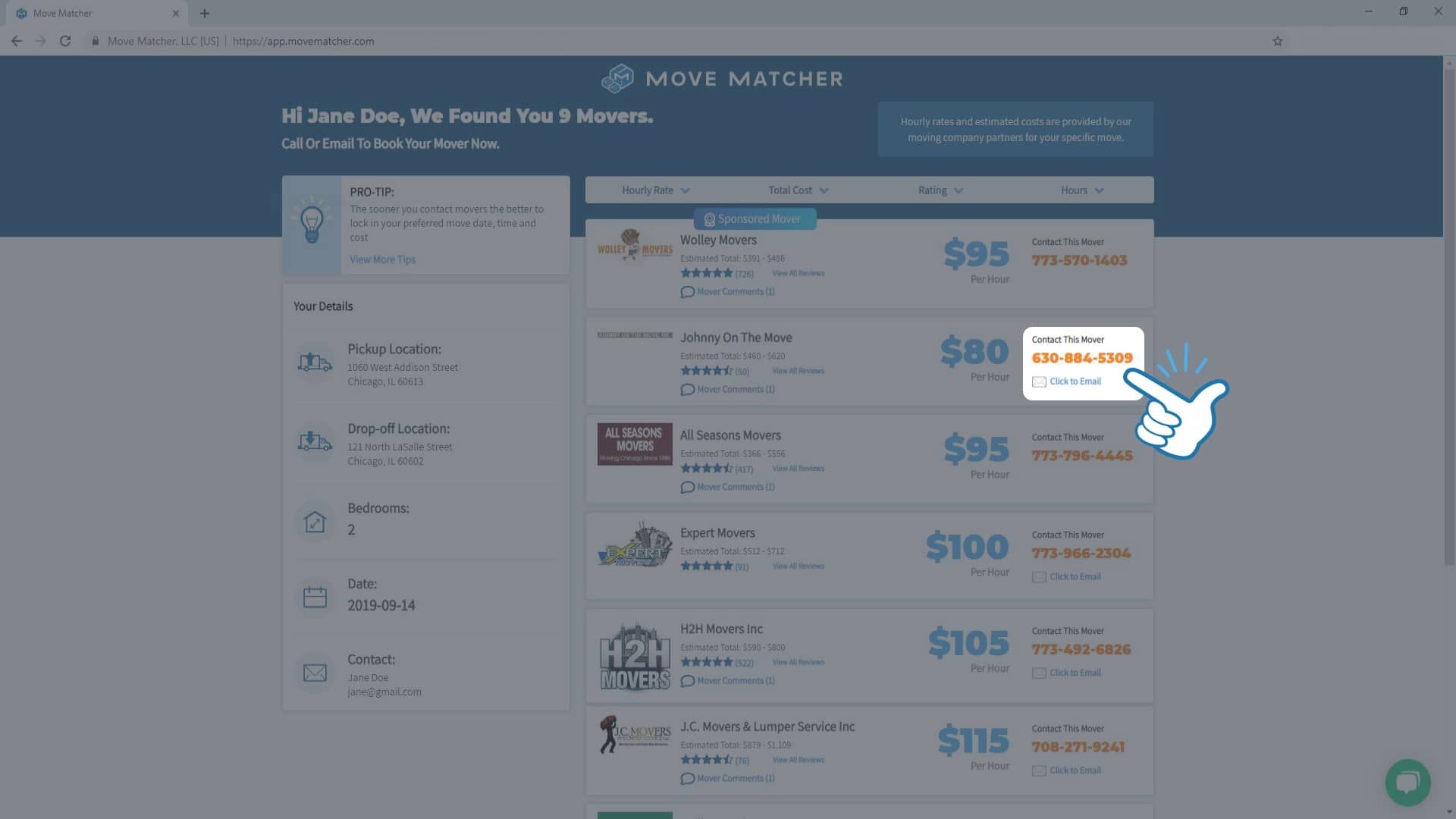 If you choose to email a mover, you can include a personal message with any comments or concerns you have about your move.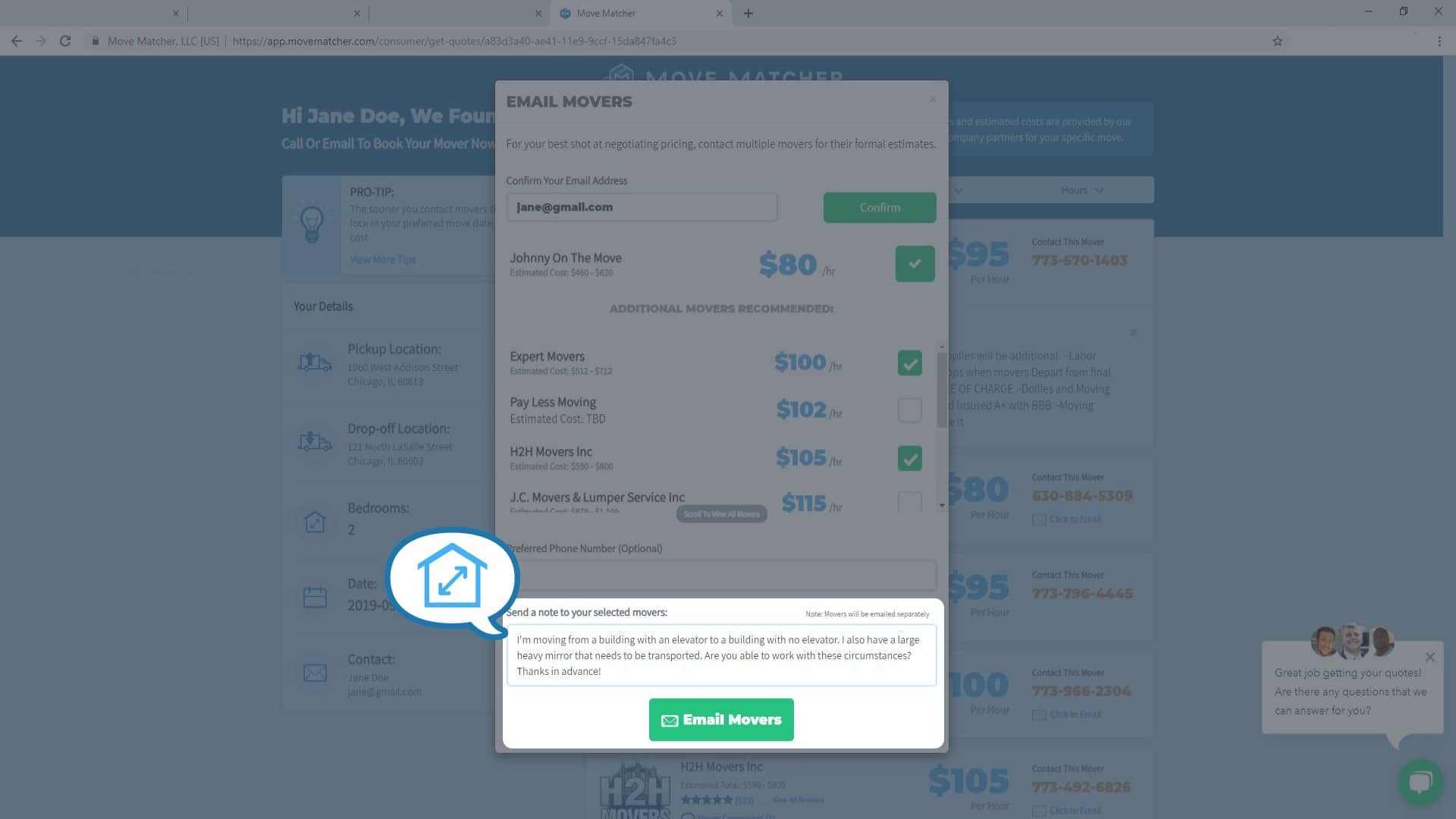 To save time, you can email multiple movers at once.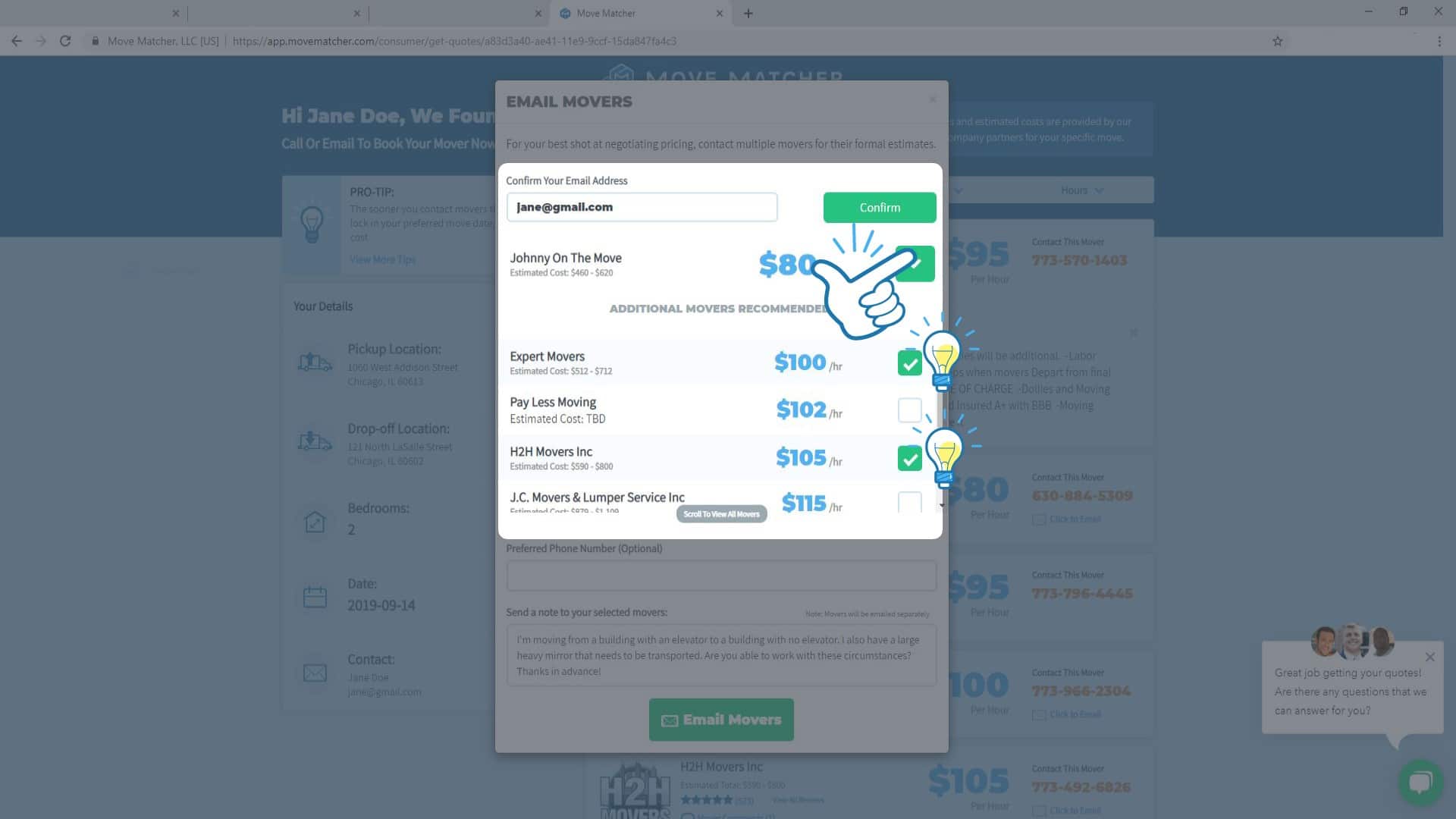 Why Move Matcher?
Move Matcher provides the best way to find, compare and contact local and long-distance moving companies to help save you time and money. Gone are the days of sifting through neverending search engine pages to find a reputable moving company.
Move Matcher makes finding a moving company straightforward. Get started and receive free moving company quotes in seconds!