Many consider Chicago one of the top food cities in the country with their Italian beef, hot dogs, and of course pizza —  especially deep-dish pizza. But Chicago is more than just deep-dish pizza: Neapolitan, thin crust, and pan are just a few other amazing options in the Windy City.
Move Matcher's Headquarters is in Chicago, so we care deeply about our pizza and because of this, we've created a list of the top-5 pizza places throughout the amazing, beautiful, spectacular city of Chicago (ok, we might be a little biased). Pizza joints span the many Chicago neighborhoods and include some of the best in the entire country.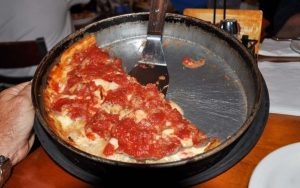 Some famous publications, like Thrillist, think Pequod's is the best pizza in downtown Chicago, but we're not as high on it as others. Don't get us wrong, it's still a top 5 joint. Pequod's serves pan pizza, very similar to deep-dish, with a thin crust and crispy caramelized cheese coating the outer rim of the pie. We almost liken the pizza more to Detroit-style pan pizza rather than deep dish — the only thing it's missing is the square shape.
You might be surprised when you walk into this pizza palace because it gives off vibes as more of a sports bar instead of a pizzeria, which makes it even better in our opinion. The narrow restaurant with brick lining the walls makes Pequod's feel like an old-time Chicago bar to enjoy the Bears game on a chilly Sunday afternoon. No matter when you make your way to Pequod's, its well worth the trip.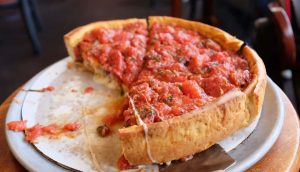 Look, a deep-dish pizza place on the top 5 list! Pizzeria Uno is actually the birthplace of deep-dish pizza and still remains one of the best Chicago deep-dish restaurants.
Founder Ike Sewell invented deep-dish pizza back in 1943 when he wanted to make pizza a full, hearty meal. He opened Pizzeria Uno and customers began to flood through the doors for his new creation. After expanding as much as they could, Sewell opened Pizzeria Due (due is Italian for "two") one block away from Uno to please his growing customer base. While Uno has hundreds of locations around the country, the original at the corner of Wabash and Ohio will always be legendary.
Now that the history lesson is over, let's get down to the pizza. The Numero Uno is their classic pie topped with extra cheese, sausage, pepperoni, mushrooms, onions, and green peppers. Their deep-dish menu is limited and that's how we like it, stick to the basics with a few specialty pizzas, like the Chefs Choice with three random toppings. Take a trip down pizza history and Chicago history with a visit to Uno or Due.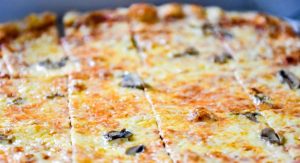 Vito & Nick's is a classic thin crust Chicago pizza joint. Located in the South Side of Chicago, near Oak Lawn, Vito & Nick's has been visited by culinary geniuses like Guy Fieri on Diners, Drive-Ins and Dives and Ted Brunson from Chicago's Best. This pizza joint has been serving up some of the best thin crust pizza since 1932 – yep you read that right, almost 90 years of making pizza.
While times might have changed since 1932, Vito & Nick's has stood the test of time and they pay homage to their roots. They still only take cash-only and don't do delivery: the only way to get this savory classic pizza is to dine-in and bring some paper bills. The joint still exclusively gets their cheese from Joliet and their fennel sausage from the South Side.
The throwback pizzeria has a simple menu: sausage pizza, cheese pizza, and a specialty cheese and eggs on Fridays for Catholics during the Lenten season. We recommend adding the Italian beef and hot giardiniera to the sausage or cheese pizza for a true Chicago classic. While it might not be the ordinary Chicago deep-dish, thin crust is just as much of a Windy City staple.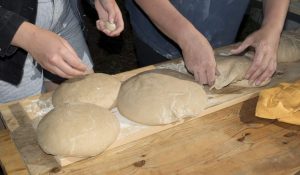 Another top pizza place in Chicago that isn't deep-dish — surprised? Well you shouldn't be because this Lincoln Park institution is known by all Chicagoans. They don't actually have full pies here, they only serve Pizza Pot Pies with heaps of cheese, sausage, mushrooms, and their home-made sauce with fresh vegetables. The thing might come out like an ugly bowl of cheese, but you'll want to come back for more.
We also recommend the addictive Mediterranean Bread for an appetizer, which is the size of a pizza pie itself. They say it serves four people but let's be honest, two people can easily take down this behemoth before the waiter even brings out the beverages.
Chicago Pizza & Oven Grinder is a tiny place underneath a three-flat in Chicago so be prepared to wait more than an hour for a table on the weekends. Don't be scared off by the long wait, you're in Lincoln Park, you can easily find something to kill time. We recommend putting your name in at the restaurant and walking one block east to visit Lincoln Park Zoo, one of the only free zoos left in the country.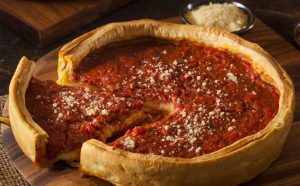 The moment you've all been waiting for, the number one pizza place in all of Chicago is… Lou Malnati's! We believe Lou Malnati's is the best Chicago deep-dish pizza and so do other publications, such as TripAdvisor and Yelp. Lou's has been churning out deep-dish pies since the 1970s in their original Lincolnwood location, just northwest of downtown Chicago.
While they do have more than 50 locations in the Chicagoland area, the West Loop location is a full-service bar and restaurant, plus the neighborhood is one of the best in the city. No matter what location you pick, this pizza is sure to satisfy any hankering you have.
Their staple pie is the Malnati Chicago Classic with lean sausage, extra mozzarella cheese, and vine-ripened tomato sauce on their patented Buttercrust. Their Buttercrust is the family's secret recipe for flaky, buttery crust and the mozzarella cheese has been coming from the same local dairy farm for the past 40 years. Lou's definitely does not lack tradition.
We recommend Lou Malnati's as the place to go for the best deep-dish pizza in Chicago to any tourist or friend visiting from out of town. It might even convince you to move to the Windy City altogether.