There's no doubt New York City stands in a class of its own in the United States. A truly global city, NYC is easily the cultural capital of the world with over eight hundred different languages spoken across the city's five boroughs: Manhattan, Queens, Staten Island, Brooklyn, and the Bronx. With over 250 communities across the city, every neighborhood has something special to offer. Based on the latest Move Matcher moves we've rounded up our 10 top New York neighborhoods for millennials in 2019.
No matter if you're a young professional looking for the best spot to find a cheap place to live with a couple roommates, looking for some of the coolest places to visit, or ready to start settling down in the big apple this list is for you.

Astoria is a large and diverse neighborhood located in Queens. Originally an Italian neighborhood, Astoria later became a settling place for Greek immigrants. According to Astoria.org, Astoria is just a 15 minute trip from Midtown Manhattan via the N and W subway lines. One of the main reasons for the increase in popularity of Astoria is the affordability of the rent. According to Trip Savvy, you can still find one-bedroom apartments for rent in Astoria for less than $2,000 per month (not bad for New York). The neighborhood is also home to the very innovative Museum of the Moving Image, a museum dedicated to film, video games, and digital media.
Williamsburg might be the most hipster neighborhood this side of Portland. Although rent has dramatically increased in recent years, Williamsburg remains a hub for artists and continues to set trends. The North Side of Williamsburg has developed a glitzier Manhattan-esque feel, while the south side retains more authenticity.  Although it may be home to the most hipsters per capita, Williamsburg has begun to feel less alternative as big box stores such as Apple have moved in. Still, Williamsburg is one of the trendiest neighborhoods to live in throughout the United States, not just in New York. Plus, there aren't many other neighborhoods that feature a bowling alley with live music every night.

The East Village is in Manhattan right near the campus of New York University. Its location near the NYU campus gives the East Village a younger crowd and increased diversity. According to New York Magazine, the East Village has the highest concentration of bars in New York and possibly the world. If you're interested in the social scene this list by Thrillist might interest you–16 Best Bars in the East Village. One of the most famous bars in the area is McSorley's Old Ale House which is the oldest Irish Tavern in New York. If you're a music fan, the East Village is also home to the Turn Table Lab where you can find an incredible collection of vinyl. The East Village is a young, diverse, and fun neighborhood perfect for any millennial.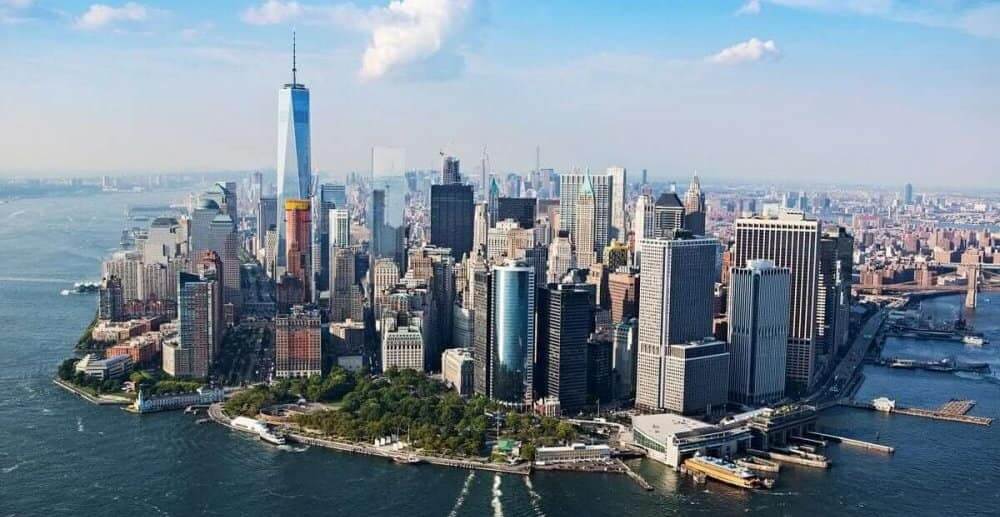 New York's Financial District, also known as FiDi, is the oldest portion of NYC, and was the epicenter of the massive growth that followed the founding of the city in 1624. Encompassing the southern tip of Manhattan island, you're never more than a 5-minute walk to over 150 different restaurants featuring cuisine from around the world. With so many options to choose from you'll be able to enjoy delicious spots like Suede for modern Caribbean cuisine, Trinity Place's bar in a bank vault, and Andrienne's Pizzabar. Every year the Tribeca Film Festival is held at the end of April in the Financial District. It brings in top talent from across the nation and showcases indie films that you won't want to miss alongside diverse art and music events.
The Financial District is the epicenter of American business and commerce and is home to the New York Stock Exchange, the Federal Reserve Bank of New York and Wall Street. This neighborhood is packed full of things to do and see, from the Brooklyn Bridge to the 9/11 memorial. With all the sights, sounds, and tastes this neighborhood offers, FiDi is bound to be a bit on the pricey side. But for young professionals looking to get a leg up, there is no better neighborhood to be in.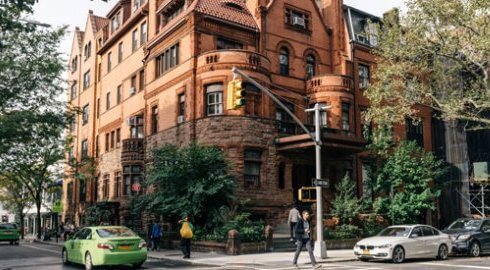 With tree-lined sidewalks and cobblestone side streets, Brooklyn Heights is packed to the brim with beauty and splendor. Located just across the river from Manhattan, this quiet neighborhood is an escape from the buzz of the big apple. Enjoy parks and public spaces where you won't be hard-pressed to find families out and about on a sunny day.
There is a little something for everyone in this historic neighborhood including the New York Transit Museum, The Brooklyn Heights Promenade, and the Brooklyn Historical Society. There are also plenty of locations to imbibe some libations such as Custom House, Jack the Horse Tavern, and the Blinc. Brooklyn Heights is one of the best places to live in New York if you're looking to start a family, or just take a break from the craziness of Manhattan.
6. Dumbo, Brooklyn
Dumbo, which stands for Down Under the Manhattan Bridge Overpass has become a hotspot in Brooklyn. Several startups in the tech industry are situated in Dumbo. Situated just under the Manhattan Bridge, residents enjoy easy access to Manhattan. According to New York Magazine, people in the arts make up about 20% of the workforce here.
Dumbo is also home to some of the best pizza in the United States. In 2019, TripAdvisor named Juiliana's Pizza in Dumbo the sixth best pizza restaurant in the country. While the rent can be rather high in Dumbo, if you work in the tech industry there may be no better place to live in New York.
7. Nolita, Manhattan
Just north of Little Italy in Manhattan, Nolita has become one of NYC's best shopping districts. Generally more affordable than the more well-known SoHo neighborhood. Nolita has a quaint and almost European feel, free from most tourists and large crowds. This neighborhood is known for its trendy fashion shops, like Warm located on Mott Street. You'll be able to find something to wear that few others have ever seen. After shopping, we suggest you relax with wine and tapas at Balzem. If you want to find a little piece of Europe in Manhattan, look no further than Nolita.
8. Bushwick, Brooklyn
Located next to the more well-known Williamsburg in Brooklyn, Bushwick has become the center of New York's art scene. As rents in Williamsburg have gone up, Bushwick continues to increase in popularity. What used to be a neighborhood full of abandoned warehouses has become a plethora of art studios and galleries. Bushwick serves as a cheaper, but just as cultured alternative to living in Williamsburg. One of the best art galleries in Bushwick is the Robert Henry Contemporary. After an art showing, you can find delicious upscale Mexican at Guadalupe Inn on Knickerbocker Avenue. If you're looking for a hip neighborhood with more affordable rent than Williamsburg, don't pass up Bushwick.
9. Crown Heights, Brooklyn
Despite the influx of high-rise condos and wealthier residents, Crown Heights remains relatively affordable. Franklin Avenue has an incredible dining and nightlife scene including Dutch Boy Burger where you can get a burger, fries, and even a beer float. The restaurant is also connected to a great bar called Franklin Park, which features outdoor seating.  For those looking to get in touch with nature, Crown Heights lies just east of the Brooklyn Botanic Garden. Art aficionados will appreciate the nearby Brooklyn Museum which holds nearly 1.5 million pieces of art. Crown Heights is also within walking distance of the Barclays Center for Nets and Islanders games. If you're interested in living in an up-and-coming neighborhood you may want to check out Crown Heights in Brooklyn.
10. Murray Hill, Manhattan
There's nothing wrong with being a little mainstream. If Brooklyn is just too trendy for you, Murray Hill is a great neighborhood for recent college graduates. Located in Midtown East, Murray Hill has a thriving social community. The bar scene on third avenue has been described by the New York Times as a "postgraduate playground".
Murray Hill has been known to serve as an intermediary between college life and the adult world. For many residents, their place of work is within walking distance. With the convenient location of Murray Hill, you can save time on your commute while still living in a lively and fun neighborhood.
Honorable Mentions
Inwood, Manhattan
Located on the northern edge of Manhattan, Inwood has gained popularity recently. While the neighborhood used to lack dining options, restaurants have been popping up. One of these restaurants is Raices, which serves Latin fusion cuisine. There is plenty of green space in Inwood including Inwood Hill Park which has a vast forest space that is perfect for taking an afternoon stroll. The neighborhood is also great for reverse commuters to New Jersey, with its close access to the George Washington Bridge. If you prefer a quieter neighborhood that remains on the island of Manhattan, Inwood could be the place for you.
Greenpoint, Brooklyn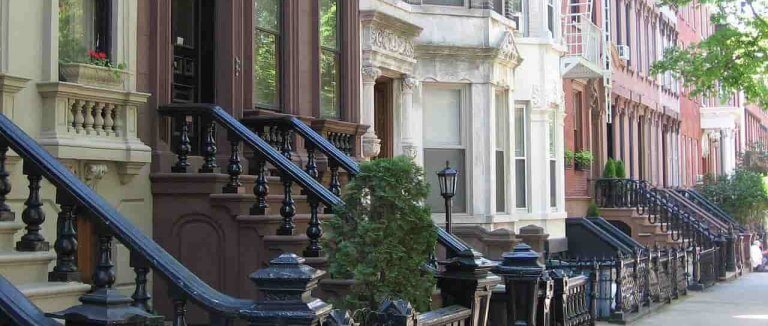 Perhaps no show captured millennial life in New York better than the HBO series Girls. Set in the Brooklyn neighborhood of Greenpoint, the show's main character, Hannah Horvath lives and works in the area. If you move to Greenpoint, you can create your own walking tour of spots sighted in the series. Literary enthusiasts will enjoy Greenpoint's several chic bookstores, including WORD where you can find an eclectic selection of books, stationery, and unique gifts. The neighborhood also provides tremendous views of the East River and across to Manhattan. For a great place to eat in the neighborhood, try Greenpoint Fish & Lobster Co. on Nassau Avenue. Whether you want to walk in the footsteps of Hannah Horvath or just enjoy the scenic views, Greenpoint could be the neighborhood for you.
We barely scratched the surface of all the different New York City neighborhoods. Ultimately, what each person desires out of a neighborhood is unique to their own personal tastes and priorities. Explore even more about the city that never sleeps and its neighborhoods with our New York city guide.
No matter where you decide to reside you we can help you find the best movers to help you get to your next home!