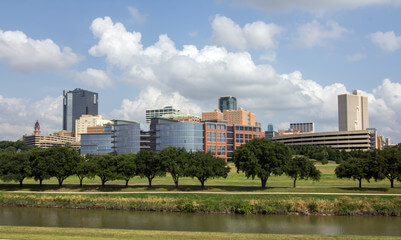 Get to know Fort Worth, TX
The fifth largest city in the state lies in North Central Texas.  It was created in 1849 as part of a system of forts to protect the American Frontier following the Mexican-American War.  It was named in honor of Major General William Jenkins Worth, who proposed the system of forts, after he died from cholera.  It was referred to as the spot "where the West begins" because of its location.  The original fort was flooded its first year before being completely abandoned in 1853.  The town became a stop on the Chisholm Trail.  The business brought in from the cattle drives spurred growth in the town, which eventually became the center of the cattle drives and the ranching industry.  This led to the nickname of "Cowtown".  Fort Worth struggled during the Civil War as well as in 1873 when both economic disaster and a difficult winter hit the cattle industry hard.
The name "Panther City" grew out of this struggle when a lawyer described the town as so slow he saw a panther asleep in the street.  The city adopted this name and has incorporated the panther into statues and other aspects of the city.  The completion of the Texas and Pacific Railway and the boom brought by new stockyards brought a barrage of cowboys and their antics.  The town gained another name, "The Paris of the Plains" because of the area known as "Hell's Half-Acre", which was home to the largest collection of saloons, dance halls, and bawdy houses south of Dodge City.  There were many attempts to reform the area, but it was not until 1917 when Camp Bowie, an Army training facility, arrived and enforced martial law that the area would begin to be cleaned up.  The name is still associated with the southern end of Fort Worth today.
Fort Worth is known for its cultural scene, with many theatres, museums, and music venues in the city.  The city is also known as the home of Texas Christian University.  Along with the TCU Horned Frogs athletics, Fort Worth also is the location of Ben Hogan's Colonial Country Club as well as the Texas Motor Speedway.  American Airlines Group, D. R. Horton, Pier 1 Imports, the John Peter Smith Hospital, RadioShack, and the BNSF Railway are all based in Fort Worth.  The city's largest employer is Lockheed Martin Aeronautics.
Quick Facts
Population: 812,553
Median Household Income: $52,273
Median Property Value: $127,300