Move Matcher Appoints New Business Development Executive and Inside Sales Representative

Move Matcher, the smartest, fastest, easiest way to find your ideal mover, recently announced two new hires to their expanding team. Maureen Miller has taken on the role of business development executive and Matt Smith joins as inside sales representative.
Meet Maureen
As our business development executive, Maureen will shape Move Matcher's strategic sales initiatives and develop programs targeting existing and exploratory audiences for our company's property partnerships.
Maureen has over 15 years of experience cultivating long-term client relationships in sales and marketing positions. Her proven track record of driving sales development through exemplary customer service comes as an asset to our company. Prior to joining Move Matcher, she served in an account management role at Trunk Club in Chicago, IL.
Property management professionals can connect with Maureen to find out how our easy-to-use website can help their tenants find and compare moving company quotes from movers that are licensed, bonded, insured.
Meet Matt
Matt will be introducing our platform and services to local and long-distance moving companies across 10 markets.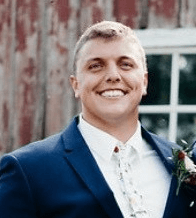 Matt comes to us from IBM, where he worked as a Financial Analyst out of Rochester, MN. His background in business analytics combined with his desire to excel at customer service offers our mover network a superior experience.
If you're a moving professional in need of qualified leads for the same price (or less) than what you're currently paying we urge you to schedule a short demo with Matt to learn how our Mover Network provides customers who convert at 3x higher than other lead gen services, why you will only pay for customers that contact you through our site and how we get leads to contact you directly!
"Both Maureen and Matt bring with them track records of excellence and their experience only elevates the quality of our services," said Dave O'Connor, Move Matcher President. "I'm excited for them to share their insights with our property partners and the moving companies in our mover network."
The next time you're looking to book a local move put Move Matcher to work for you!